MANUFACTURE
Vycor® has similar properties and performance levels to quartz.
Vycor's® properties at high temperatures mean it can be used continuously at 900°C with peaks at 1200°C.
Its extremely low expansion coefficient confers excellent resistance to thermal shock.
Example: a 3 mm thickness plate heated to 1200°C and dropped in cold water does not break!
Vycor® has a very high resistance to acids, water and steam at low and high temperatures. Vycor® is characterized by high electrical resistance and low dielectric losses. It is worked hot, can be machined and polished for uses in optics.
Vycor® exists in sheets and tubes.
COMPOSITION
VYCOR brand glass is a 96% silica and 4% Boric anhydride glass.
PHYSICAL PROPERTIES
Vycor® 7913 is designed for use in all products that must withstand very high temperatures or thermal shock. It may be used at much higher temperatures than 7740 Borosilicate glass and will withstand considerably more thermal shock :
· Modulus of elasticity : 6.500 kg/mm² environ
· Compression breaking load: 3.000 kg/cm² environ
· Softening point: 1500 °C
· Annealing point: 910 °C
· Strain point: 820 °C
· Maximum operating temperature: 900 °C
· Density (g/cm3) : 2.18
· Coefficient of linear (°C 10-7) : 8
· Refractive index : 1,458
Vycor products can be used continuously at 900°C, and intermittently to 1200°C.


OPTICAL PROPERTIES
7913 " VYCOR " Glass Transmittance :
Wall Thickness =2mm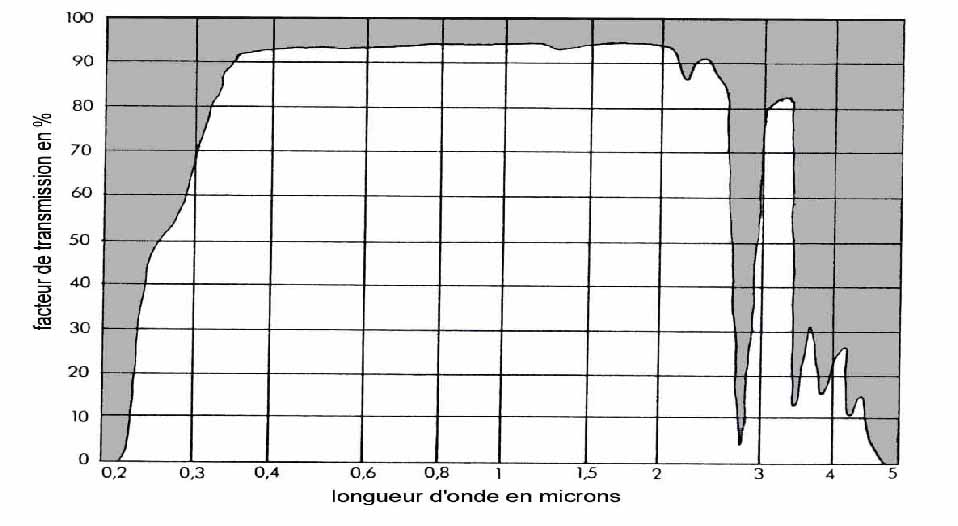 DIMENSIONS :
Sheets max. dimension : 310 mm x 310 mm
Thicknesses : 3,2 mm / 4,8 mm / 6,35 mm / 8 mm