Technical properties
· Hydrolytic Resistance
· Acid Resistance
· Alkali Resistance
Like all Borosilicate glasses BOROFLOAT® demonstrates a high resistance to water, many alkalis and acids as well as organic substances. Its chemical resistance is superior to that of most metals even in long-term use and at temperatures in excess of 100 °C (as used as sight glasses in the chemical industry). Exposure to water and acids only results in the leaching out of small amounts of ions from the glass (as used in medicine and analytical engineering).
The phenomenon of traces of tin on the surface is commonly known from the manufacture of regular soda-lime float glass. It is caused by an evaporation effect in the float bath atmosphere. These values are considerably lower for BOROFLOAT® 33 than for soda-lime float glass on both the side in contact with the tin and on the other side which is exposed to the atmosphere. The reciprocal effect with coating is thus markedly less. It is recommended that the top side (labeled by the manufacturer) is used for coatings.

Mechanical properties
· Density (à 25 °C)                               2,2 g/cm3
· Modulus of elasticity                            63kN/mm²
· Knoop hardness HK 0.1/20                     480
· Poisson's Ratio                                         0,2
The impact resistance of BOROFLOAT is dependent on the way it is fitted, the size and thickness of the panel , the type of impact involved, bore holes and their arrangement and various other parameters.
Comments on impact resistance are, therefore, only possible with knowledge of the particular application ( chiefly in conjunction with application-specific standards which have to be complied with as regards strength requirements). Nominal values on request.


Optical Properties
· Refractive indices nd                     1,472
· Dispersion (nF – nC
)                     719,10
–4


Thermal Properties
• Coefficient of linear (20/300 °C) : 3,25 . 10-6/K
• Transformation Temperature Tg : 530 °C
• Annealing Point (1013 dPa . s) : 560 °C
• Thermal conductivity 90 °C : 1,12W/(m .K)
• Specific Thermal Capacity Cp (20/100 °C) : 0.83 kJ(Kg.K)
• Maximum operating temperatures (RTG) :
- For short-term usage : 500 °C
- For Long-term usage: 450 °C
• Resistance to thermal gradients (RTG)* :
- For short-term usage(<100 h) : RTG= 100 K
- For Long-term usage(³100 h) : RTG= 90 K
• Resistance to thermal shock RTS** :
Glass thickness £ 3.8 mm RTS = 175 K
- 5 to 5.5 mm RTS = 160 K
- 6.5 to 15 mm RTS = 150 K
Courbe de transmissions spectrales
BOROFLOAT, PYREX
ROBAX
VYCOR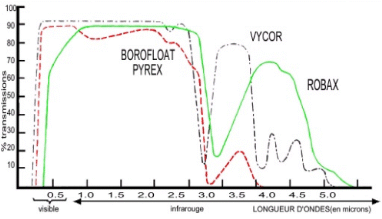 VIO EXCLUSIVE DISTRIBUTOR IN FRANCE

*) RTG – Resistance to thermal gradients
**) RTS – Resistance to thermal shock.